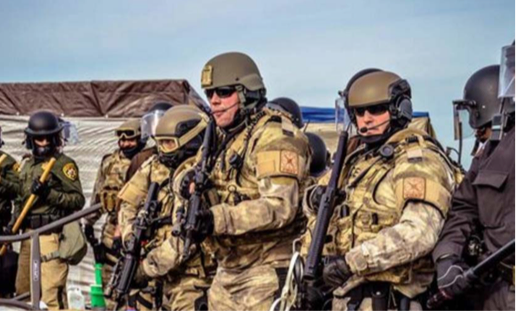 US government and private pipeline security militarization against the water protectors on the traditional territory of the Standing Rock Sioux Tribe.
Rob Wilson Photography, https://www.facebook.com/rob.wilson.142892

The Red Owl Legal Collective has sent a Divestment Letter to Den Norske Bank – DNB (The Bank of Norway), in serious and urgent request that DNB divest from the Dakota Access Pipeline (DAPL) due to, among other things, grave human, indigenous and environmental rights violations of the pipeline project and construction.


Link to the letter can be found here
.
The letter's heading is
DNB Divestment from the Dakota Access Pipeline and the Fulfillment of the Human Rights of the Standing Rock Sioux Tribe and their Supporters
. It was sent to DNB today (Nov. 8) electronically and will be hand-delivered tomorrow (Nov. 9) in person in Norway.
Red Owl Legal Collective, with the support of the National Lawyer's Guild, is the on-the-ground, direct support legal team at the Standing Rock encampment in North Dakota, where the Standing Rock Sioux Tribe and its supporters, also known as
water protectors
, having been standing against the pipeline for several months, facing ongoing, historical, current and intensely increasing conditions of rights violations due to the pipeline construction and pending usage.
The letter has been compiled and written for the Red Owl Legal Collective by:
Michelle Cook, J.D.
SJD Candidate, University of Arizona, Indigenous Peoples Law and Policy
Program
Red Owl Legal Collective Member
India Reed Bowers
BA Cultural Anthropology, Brown University, United States
LLM International law of human rights & criminal justice, Utrecht University, Netherlands
Founder & Director, International Organization for Self-Determination and Equality (IOSDE)
Andrew B. Reid, JD, LLM
Adjunct Professor, International and Human Rights Law of Indigenous Peoples University of Denver Sturm College of Law
Please share widely with your contacts, networks and media.